This course includes requirements to apply to sit for the exam and exposure to all major topics covered, but significant independent study prior to the exam will be required to master the content.
The Salesforce Administrator Course prepares you to deploy and better use the Salesforce cloud computing platform. You will gain hands-on experience through exercises within the software program. The course covers the breadth of applications across the platform, the features and functions available to an end user, and the configuration and management options available to an administrator across the Sales, Service, and Collaboration clouds within the software.
In addition, the course is priced well below competitors' offerings...usually around $4,500 or more. Wilmington is one of only three locations in North Carolina with onsite training. Other locations are Charlotte and Raleigh. You will learn about the local Salesforce Users Group, which provides the opportunity to collaborate with other Salesforce Administrators. 
Enhance career opportunities and advancement options.
Network and learn from other professionals in the program.
This course focuses on the features and functionality used to maintain a Salesforce implementation.
Salesforce.com is an internationally recognized company and the world's largest CRM tool.
Over 250,000 companies including nCino, Wells Fargo Bank, Virgin America, and L'Oreal use Salesforce.
The average starting salary for those with no experience but have obtained Salesforce certification is around $40,000-$50,000. Those with just 2 years of experience increase to $50,000-$80,000.
Cloud-based systems, such as Salesforce.com, are widely recognized as being the future of business technology.
The Salesforce cloud platform is transferable across a wide range of industries.
Job applicants and recent graduates with Salesforce certification on their resumes stand above other applicants.
This program is ideal for people:
with some sales experience and basic computing skills
with a desire to earn the Certified Salesforce Administrator (Administration Essentials for New Admins or ADM201) credential
responsible for deploying or administering Salesforce in their organization
who desire a credential to increase their marketability for positions at nCino, Live Oak Bank or other firms that use Salesforce.
By the end of this hands-on intensive course, you will be able to implement and customize a Salesforce organization with essential features for the Sales, Service, and Collaboration clouds. Specifically, you will be able to:
Create new users with the appropriate access and permissions needed to work with Salesforce data.
Customize the Salesforce application to reflect your business needs, from setting currencies to creating custom fields.
Import and export data from Salesforce. Ensure data cleanliness through validation rules.
Create dashboards and reports so you, and your users, can analyze the data within Salesforce.
Automate business processes, lead generation, and case creation, assignment, and escalation.
Improve collaboration, sharing, and knowledge exchange within your company.
Note: the Salesforce certification exam must be registered and paid for separately from the course.
This course also provides preparation for the Salesforce Certified Administrator Exam (ADM 201), including tips and strategies for success when taking the certification exam.
"I loved the format of the class and how it allowed me to both learn and apply the Salesforce Admin material in the classroom. I have also had the chance to start conversations with companies in town such as nCino because of my newfound knowledge with Salesforce. I am currently reviewing the course and practice exam questions and will taking be taking the exam very soon!"
-Julian Morris
UNCW Class of 2017
"Our company had recently rolled out Salesforce globally and I hoped this class would help me further my education and become a greater asset for my colleagues. The course covered an extensive amount of information in one week but was presented in an easily digestible format. The material was fresh and provided real life examples of not only Salesforce Administration but also the certification testing process. I was able to put my knowledge to use immediately upon returning to work and am an even greater valued asset today."
-Andrew J. Beck
VP - Global Sales Strategy & Operations
(Raleigh and NYC Based Financial Technology Company)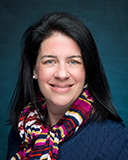 Elizabeth Baker, PhD is an Assistant Professor of Information Systems and Operations Management at UNCW, as well as a certified Salesforce Administration professional. Prior to entering academics, she was a network systems administrator, engineer and architect with firms ranging from Fortune 500 to small businesses as a Microsoft Certified Systems Engineer (MCSE). She also conducted MCSE training for corporate clients as a Microsoft Certified Trainer (MCT). In addition to Salesforce administration, she currently teaches both network systems administration and cyber security courses at UNCW. Elizabeth uses an approach in the classroom that balances learning from both a conceptual and practical perspective, allowing attendees to adapt the knowledge to their needs and working environment.