The morning session will focus on developing a strong foundation for your mentoring program. We will clarify program goals, discuss how to engage stakeholders, and develop strategies to recruit, match and orient the right protégés and mentors to your program. The overarching goal is to put in place the infrastructure that will enhance mentoring relationships.
The afternoon session will focus on two topics. First, ideas and techniques will be shared for how you can support high quality relationships while recognizing and reducing dysfunctional relationships. Second, a survey of easy evaluation/assessment methods will be covered. Every participant will leave with a:
one page description of your mentoring program with resources mapped to activities and program outcomes;
recruitment plan to find the right protégés and mentors (who, how and when);
strategy to make the best match between prot

é

g

é

s and mentors;
a program briefing to orient participants to your program;
methods to accelerate participant learning with enhanced crucial conversations;
3-5 ways to assess your success.
This program is designed for human resource professionals and other individuals who oversee a formal mentoring program.
This intimate, interactive workshop is designed for you if you are a new or experienced mentoring program manager who has oversight for a mentoring program and a desire to improve it. You will develop plans for designing (or redesigning) your mentoring program and learn how to support flourishing mentoring relationships. You'll also develop your professional network by sharing with and learning from other mentoring professionals. Course fee covers your own personal copy of Laura's Handbook for Managing Mentoring Programs (valued at $50).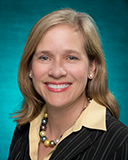 Dr. Laura Gail Lunsford has spent the last eight years at the University of Arizona in Tucson, where she was an Associate Professor in psychology. She taught classes on the psychology of leadership and the psychology of happiness, and she is a frequent consultant and speaker nationally and internationally on optimal relationships and leadership development. She was Duke University's Fuqua School of Business first alumni relations director and went on to found the Park Scholarships at NC State, where she was its first, full-time director. She received her BA and PhD in psychology from NC State and her MS from the UNC-Greensboro.